INCOIS Remote sensing data and products
To manage real-time applications; Ground stations play a key role in Satellite data acquisition and processing systems (SDAPS), INCOIS established 3 Ground stations(X/L- Since 2006, Oceansat2- since Feb2011 & NPP- Since Apr2016 ) to meet the in-house operational advisory services and acquire AVHRR (Metop-A, Metop-B, NOAA-18 & NOAA-19) , VIIRS (Soumi-NPP), MODIS (AQUA &TERRA) &OCM(Oceansat-2).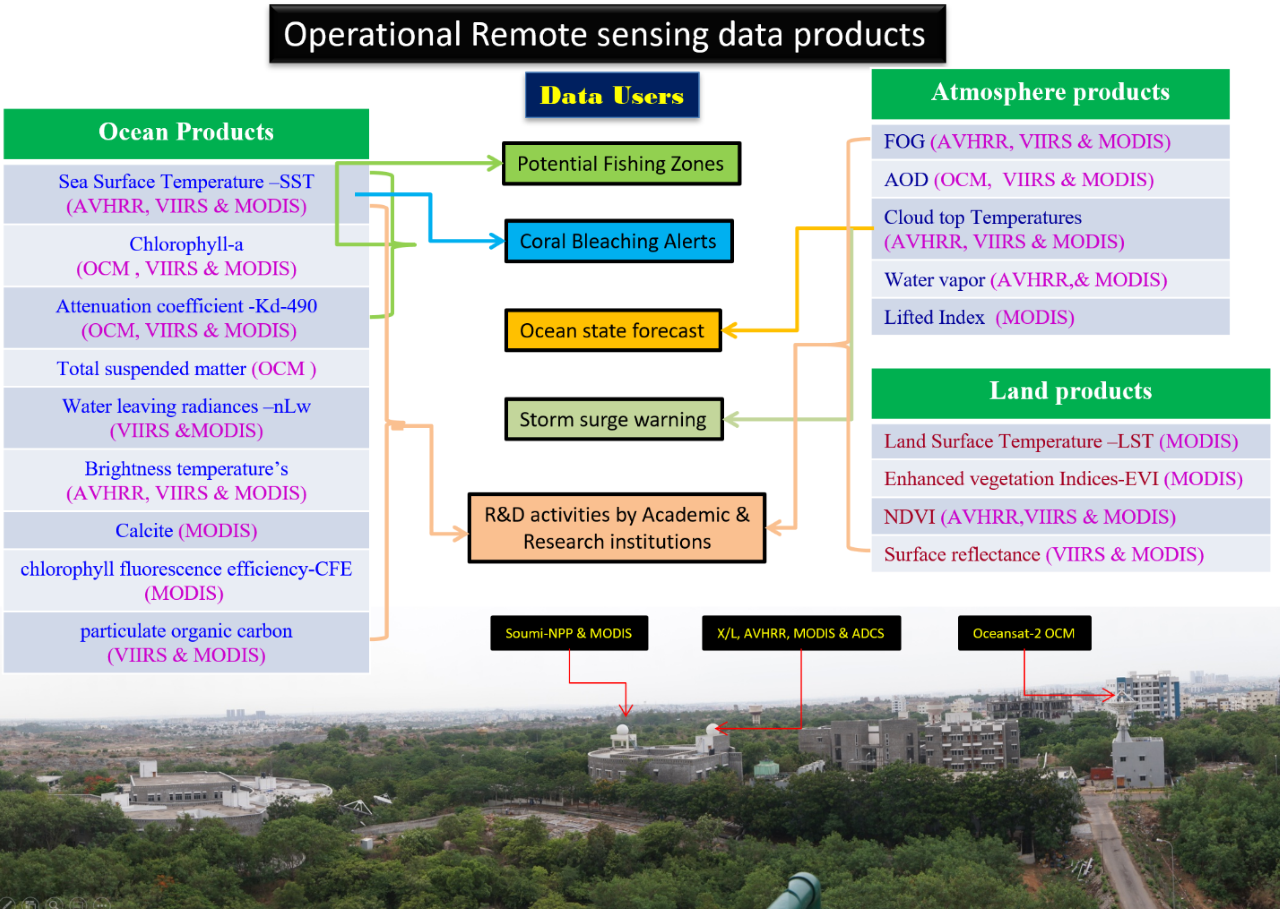 Fig: The schematic figure shows the data products and flows to the user and the application
Satellites provide broad viewing and frequent observations; INCOIS Ground Stations cover the Northern Indian Ocean domain (0 ° N-30 N; 40 ° E-110 E) for real-time operational marine applications. In the presentation, we will explain the basics of remote sensing and data collection methods from polar-orbit and geosynchronous satellites, as well as Ocean remote sensing applications with case studies as described below.
Potential Fishing Zone (PFZ) Advisory
Ocean State Forecast
Coral Reef Mapping and Reef Health Monitoring
Ocean phytoplankton & suspended sediment applications (River runoff)
Sea Surface temperature (SST) monitoring
Currents, regional circulation patterns.
Frontal zones, internal waves, gravity waves, eddies, upwelling zones.
Dust storm monitoring
The identification and estimation of cyclone eye and radius of maximum wind (R_max) are the essential parameters for the forecast of cyclone dynamics and intensity.
Estimate the speed of ships by estimating the positions of ships by different satellites at different times
Detecting oil spills from different sensors at different times can help monitor the spread and characteristics of oil slips.